Well, it finally happened: I sold Tigger.
After a somewhat drawn out sales process, a very nice lady from Michigan has purchased him as her next dressage rising star. I genuinely wish them both the very best, and think it will be a great home for him. He leaves Monday for the US of A and I hope he settles in beautifully.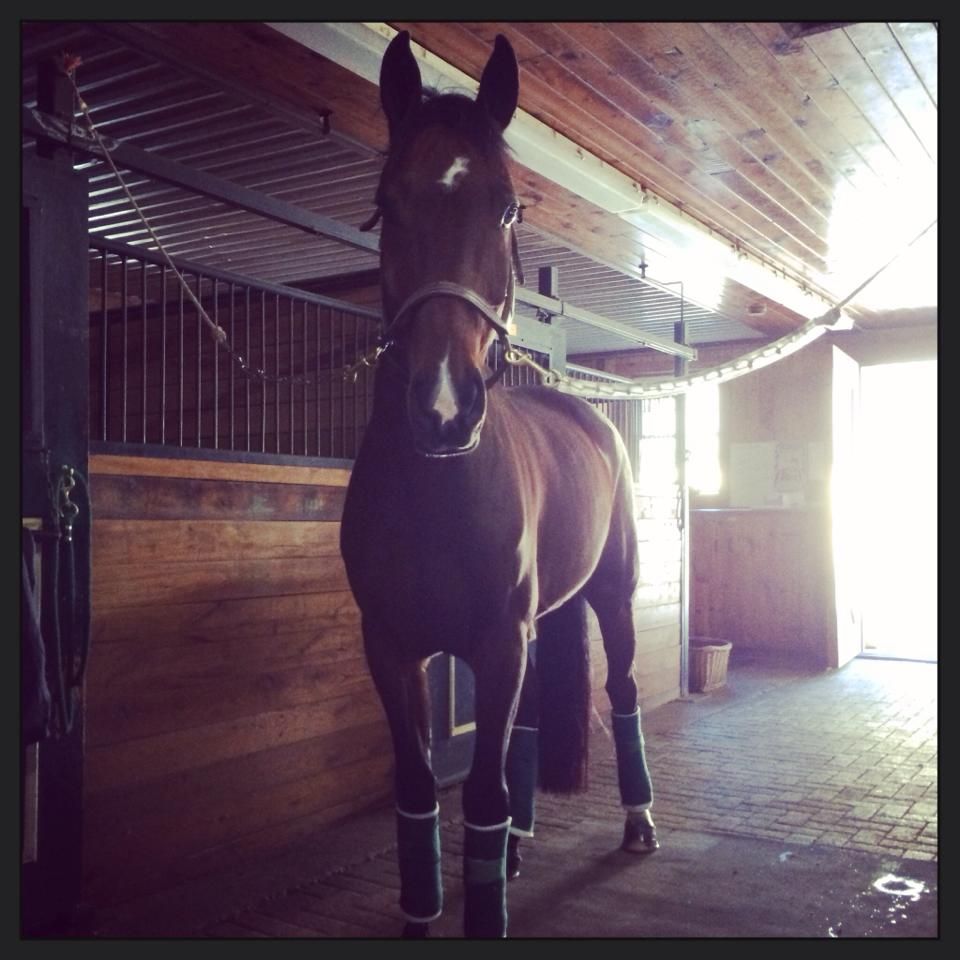 It's quite a relief, after trying to sell him for a year and a half, to have it done at long last. In truth, our attempts to revitalize him as a jumper took awhile, and we would have been an awful lot better off giving up on that sooner... but it is what it is. He was in dressage training for just seven months, and in that time progressed more than any horse has much right to progress. He is doing some Grand Prix level movements (a number of them, actually) and is capable of performing a pretty reasonable PSG test. It's crazy that he had this ability... anyone looking at him those seven months ago would never, ever have guessed.
This horse took me through more emotions than I care to admit. From the highest of the highs the day I first saw him, the exceptional joy the day I bought him, the eagerness in furthering his baby horse education... to the depths of despair when things really, really, REALLY were not working out. And then there was the waiting... the endless waiting while we waited for him to sell. Plans. Ideas. Money. All for naught. It was rough, dear readers. It was really rough. I shed more tears over this horse than I have over just about anything else.
In a way, I'm lucky. There are horses that don't work out in their chosen discipline every day, and I got really lucky that mine excels in another - especially since I didn't exactly buy him based on his dressage-type movement! (Of which he previously had absolutely none.) I am also super lucky that I was able to keep riding during this whole debacle, and that I had my buddy Riley who allowed me to keep jumping. I am forever grateful to the people who helped to make all of that happen.
Tigger and I had our last ride the other day. I thought to myself while riding that it was the last time I would look through his ears. He was good, and he gave me a lot of himself. We had a lesson, and the trainer had us do all sorts of fun things. Half pirouettes, half passes, tempi changes, big super cool extended trot, and my new favorite: passage! I've never done passage before (and he hasn't done much of it), and to be able to get that out of him on our last day was pretty cool. I asked the trainer if she would take video, but of course by then his best passaging had already happened! We got one pretty decent round of it, though, and I grabbed this video still. (No h8 for the draw reins, please - one of his methods of evasion is to fling his head and pretend you don't exist from time to time, so they acted as a martingale more than anything!) I am grateful for the opportunity to get to do this very special gait on this horse, and even grateful for the other life lessons he taught me. I just wish they hadn't been so hard to learn. But at the end of the day... he's a horse, and he didn't ask for any of this, either.
Happy trails to you, my friend. I wish you the very best.