Saturday
Saturday dawned very cold. I think it was about three degrees in the morning. Too cold to be alive, anyway. I arrived at the show at some ungodly hour to watch my friends in the 1.20m (the first class of the morning at 7:30 AM, of course) and then sat around for 800 years waiting for my class, which gave me ample time to freeze to death.
I did the 1.0m again, and the course walked fine, with nothing too spectacular to note. Our warm-up was okay. The warm-up ring at this particular show is a little weird. You warm up on sand in this tiny, very oddly shaped ring and then do your last jump on grass before you go in. I hit a lot of forward distances but they weren't too bad. I just wasn't that stressed about it, for some reason.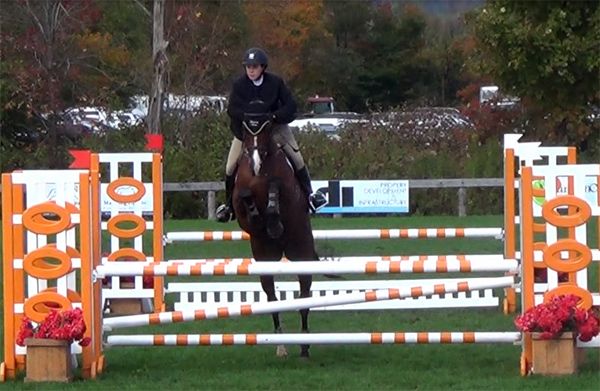 We are still slightly impressed.
My course went really well. The actual show ring is enormous, and it has a tendency to draw you out in the corners, which is annoying and causes time faults. After my experience on Wednesday when I had to pick Riley up and carry him around, I upgraded my spurs and downgraded my bit, and this proved to be a good decision. I definitely wouldn't have wanted less spur. He was mildly sticky through the first line, and I had to push him a little. We had a rail at jump two, which Trainer said was him neglecting to pick up his feet. I could probably have balanced him a little better, too, but on video we reached the jump fine, and he wasn't flat, so I dunno. That's horse showing for you! I was otherwise really happy with the round, and the smoothness and good decisions I made, so no harm.
Last stride before the jump!
Later in the evening, the show held a $100,000 World Cup qualifier. This is always a super fun class to watch, since lots of Big Guns show up and the course is usually really good. For some examples of Fancy People, we had Leslie Howard, Charlie Jayne, Georgina Bloomberg, Kirsten Coe, Ian Millar, Conor Swail, and so many more. So fun and so inspiring to watch!
The Main Stadium and the World Cup course!
There was an unbelievably tricky line in there, a shortish corner to a triple bar and one stride to an oxer, which was a bit uphill, followed by six strides downhill to an airy vertical. So much carnage happened in there. If you made it through that line, you were pretty much good to go.
Line of Death
In the end, the incredible Leslie Howard won it for a second year in a row(!) on the indomitable Tic Tac. Her jump-off was sort of death defying and soooo fast!
Sunday
Sunday was even colder than Saturday, with a high of -2. (Sob.) I arrived in the morning to find Riley sound asleep; so very sound asleep that for a brief, panicked moment I thought he might be dead.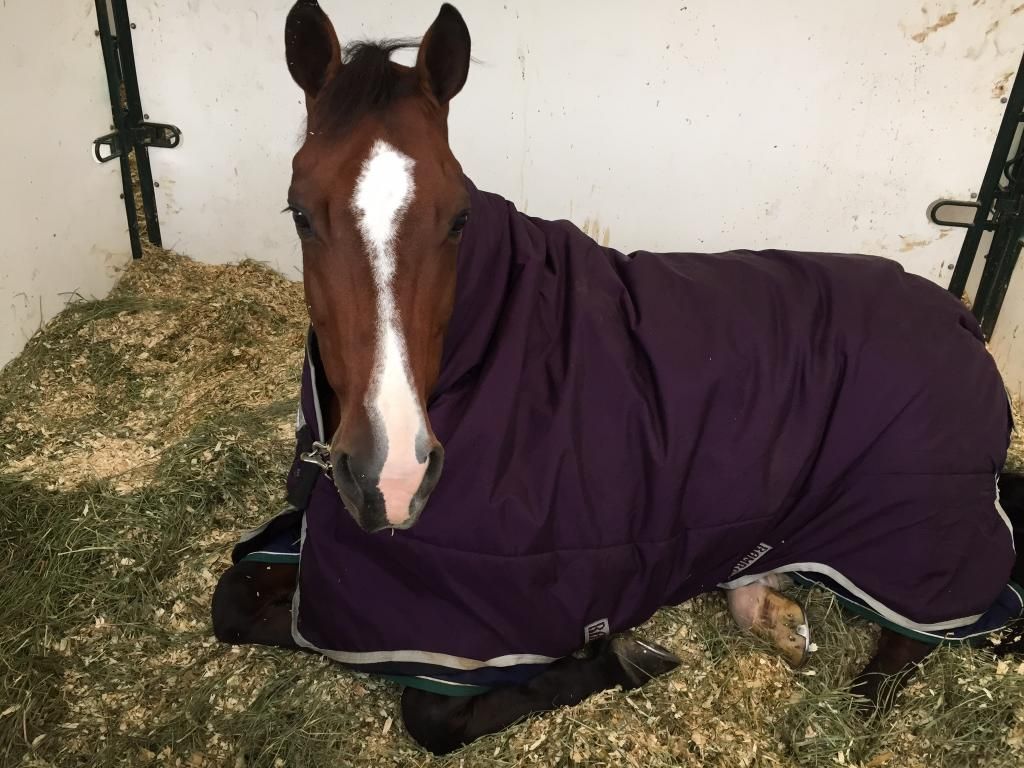 Body clipped pony snug as a bug in three blankets.
I went in and sat with him while he snoozed, joined by my friend/barn employee A, who has to be one of my favorite people on earth. When he woke up a little and rolled on to his belly, I fed him bits of hay by hand. He isn't spoiled at all.
I ended up having time to do this because there had been some kind of massive crash in my ring in the first class of the day, which involved ambulances and even a fire truck (?) and the ring ended up being held for about two hours. So, we ended up going much later than anticipated.
Trainer had departed Saturday evening for Barcelona, where he'll be competing in the Furusiyya Nations Cup Finals later this week. Super exciting! This meant that I would be coached by New Assistant. I haven't had any lessons or coaching from her so I was kind of interested (if a little nervous) in the experience. I really like what I've seen of her, though, and she's super nice and funny, and SUCH a talented rider. When we walked the course she took a lot of time to discuss the jump-off and what she would do and why, which I appreciated a lot and was nice and insightful.
Our warm-up went really well. She didn't say much of anything beyond "good," but we had a really excellent warm-up, so I can't complain!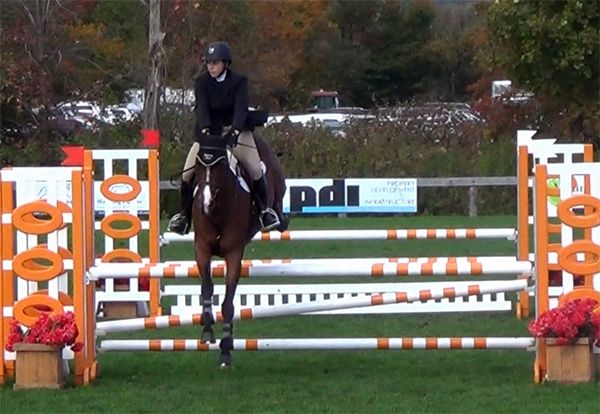 The course itself was pretty okay. It wasn't my very very best riding but it wasn't too far off, and it was a decent way to end the season. Unfortunately I got in a little tight to jump five and had the back rail of the oxer down, I think because we didn't have quite enough impulsion to get across easily, and quite frankly Riley didn't try that hard either! He was quite fresh, and much more the usual Show Ring Riley that I'm used to.
Our course had one mildly tricky element, which was a triple combination of an oxer, two strides to a vertical, one stride to an oxer. We hit this pretty well, just lightly forward. I wish it could have been a hair more patient but if I had waited it would have been a really lovely half stride and could have gotten ugly, so it is what it is. I was patient through the combination, though, so I was happy about that. We finished the course really well, and I was pretty okay with the way I rode.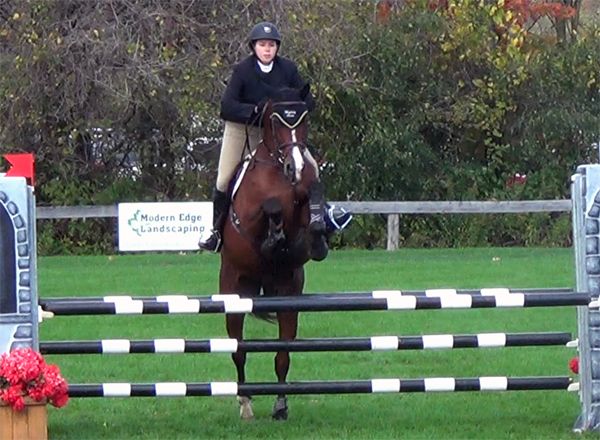 Still slightly impressed, and no, I have no earthly idea what my legs are doing here.
Oddly enough, despite the fact that we had four faults, we hung in for ribbons for a *really* long time. When I came out I was ranked 4th as the current fastest four faulter. We hung in to 8th until the very last horse that went, who also had four faults but ended up being just one second faster than me. That was kind of annoying (and sad!) because there was a victory gallop and I really wanted to take a lap!
I kind of just puttered the rest of the day, watched my friends show, and helped the girls pack up the trailer to go home. And then it was over, just like that.