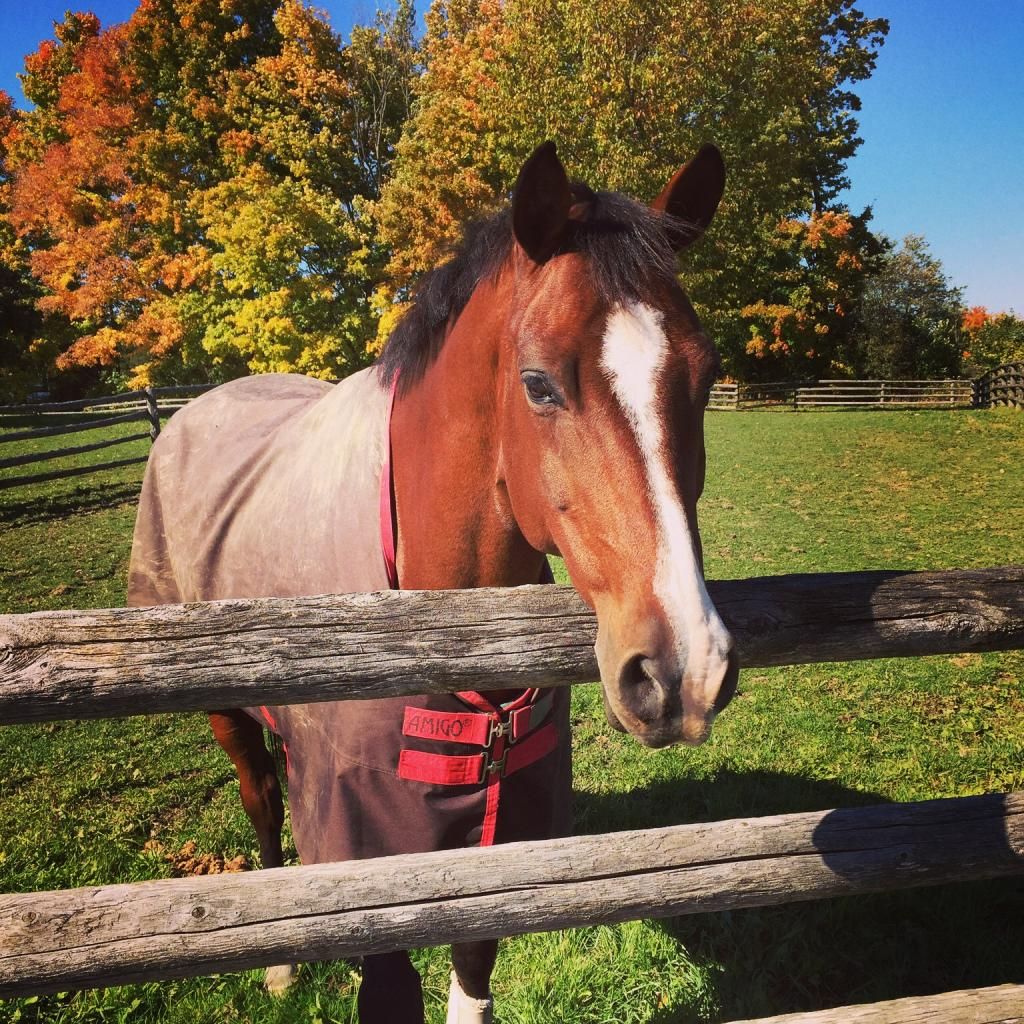 Riley says "I look really good in fall colors"
I hope to make this a reasonably quick recap of last week's rides/lessons, but for some reason I always end up typing out small novels so I guess we'll see.
Thursday, I had my first lesson with New Assistant. (Also a dressage lesson on my other horse, whom I never talk about here, but probably should.) We started out with her observing my warmup in silence, then she had me start cantering some poles placed on the short end of the ring. The idea is that a jump on the short end is hard, because it's a very short approach and a very short landing, but you have to be really careful not to turn in the air since it causes a rail. So, she had me practice this on a normal rhythm, then the add-a-stride rhythm, then the go-and-get-it jump-off rhythm. We talked a little about Riley's reluctance to do true collection and just slow his body down without really doing much with his stride length, and this was an interesting theme that started coming up this week. She suggested a couple of exercises to improve his connection coming through the corners, which I've practiced a bit this week and seem to help.
After this, she had me do a long bending line from a vertical to an oxer. The jumps were tiny, maybe 2'3" or 2'6", and she first had me put in as many strides as I possibly could between the two by going out in the long bending and just being patient for the jump. I put in 10 the first time, then she had me go back and remove a few strides. I did it in a short 8 this time, then she had me do an "attacking" rhythm like I would do in a jump-off and I got it down to what should probably have been a six but was a seven because I bent out a bit much. Nonetheless a successful exercise.
After this, she had me canter through a different, regular five stride bending line (which I thought was rather long indoors, riding inside sucks) and then go back through in the attacking jump-off rhythm and try and ride my track more direct and get it done in the four. I was a bit worried about this, since making a five into a four is a get-it-done type of scenario where you need to have the right rhythm in and get it done early, and indoors this is even more of a challenge! But I had the right canter coming in, got a great distance where I sliced off a few feet, and then legged up for the four which we completed really quite beautifully.
All in all a reasonable lesson; she figured out some of my shortcomings quite quickly (eagerness to do the add, rather than the leave out, for example!) and we talked a bit about riding more efficient tracks and stuff like that.
Saturday, I lessoned once more with her, since Trainer was away doing a clinic. This was a more interesting day. We started by doing a set of three poles, evenly spaced, cantering in, trotting the second and cantering out. This was quite easy and fun. Then she had me canter them in a four to a four, which was also easy, then around and do a five to a four, then a four to a five, then a five to a five, then a five to a three. It was pretty cool and it made some of Riley's weaknesses show up - which is to say his tendency to bulge into a banana shape going to the right, and his reluctance to "bounce" - instead, he just goes slower instead of doing a proper shortening of stride, and some of the shortening exercises really made that apparent!
After this, she had me canter off the right lead to a small (probably 2'3" or so again) vertical off a very short corner, land and counterbend in a circle, then continue on the same line once we got back around to an oxer. The first time, Riley was sluggish and behind my leg, and landed in a sprawling heap, so it took me a little bit to re-balance and get the exercise done. But we did and it immediately helped him to balance and straighten. We did this several times in a row and it was really useful, then went around the other direction and did same. She commented that he tends to land in a big, open strided sprawl no matter what distance I get in, which is interesting and explains a lot about why he is so damn hard to do certain things with. I mean, I can feel it when I ride, but I always thought it was *me* and my lack of balance... turns out, not so much. Actually she was rather adamant it wasn't.
So, two lessons in with her, my thoughts: I like her quite a bit so far. It's hard to tell in two lessons, but her exercises have been interesting and useful and more importantly actually make sense. She doesn't yell, she's not critical in a harmful way, she's way more about having a conversation about your horse/its shortcomings/how we fix/what I'm feeling and actually LISTENING to what I'm telling her, which coming from previous Assistant is nothing short of miraculous. Plus, she's really nice and funny, which never hurts.
But I do think it's funny she made all the lessons after me do torturous things, lots of two point and no stirrups and other assorted amusing exercises. I asked her why she didn't make me do them and she goes "because I know you're already good at that!"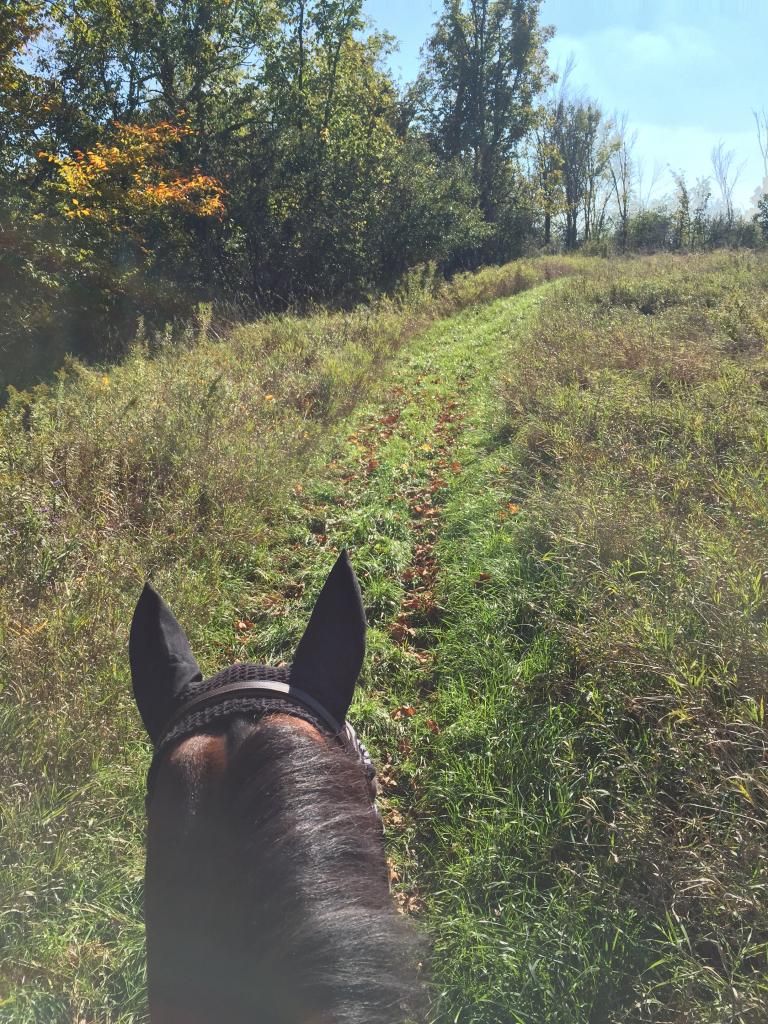 Having lessons three days a week is fairly glorious, but also leads to not tons of time schooling on your own! (Which is not a bad thing right now, really.) Sunday, though, I had the ponies all to myself. Riley flatted like a total star, and a little cute young jumper gelding that I've been doing a bit had his best flat ever. I really like this one; I've probably ridden him eight or nine times now and he is a really neat horse. A bit spooky (one moment you'll be trotting along quite placidly and the next you'll be leaping across the arena because he saw ~something~) but usually works out of it eventually and he is a real teacher in the art of feel. He responds to the lightest of touches and prefers it that way, and gets extremely irritable if you try to pull on him or get too in his face, and will overreact to the leg for awhile, every time. But he's the coolest horse, because once *you* get it right, he is all about going around like the perfect show pony. He went absolutely beautifully Sunday, even after a grouchy warm-up on his part, and it just felt amazing. One of those horses you can make huge strides with and see the results of your work really quickly. He's also one that really appreciates positive reinforcement - I think a lot of them do, really - and a quick pat and wither scritch when he does something right leads to him working ten times harder. Definitely walked on air a bit after that ride, it was so so good, and stuffed his adorable face with carrots!
Lastly I did the other young jumper gelding I've been doing for a couple of months now, and took him out on a hack with a friend who showed up. We walked and trotted a bit and he was perfectly behaved, and it was so nice to get out! The weather was quite chilly, I think around 7 degrees, and it was wet and muddy, but also really stunning. Unfortunately my iPhone did not do it justice but it was incredible out there.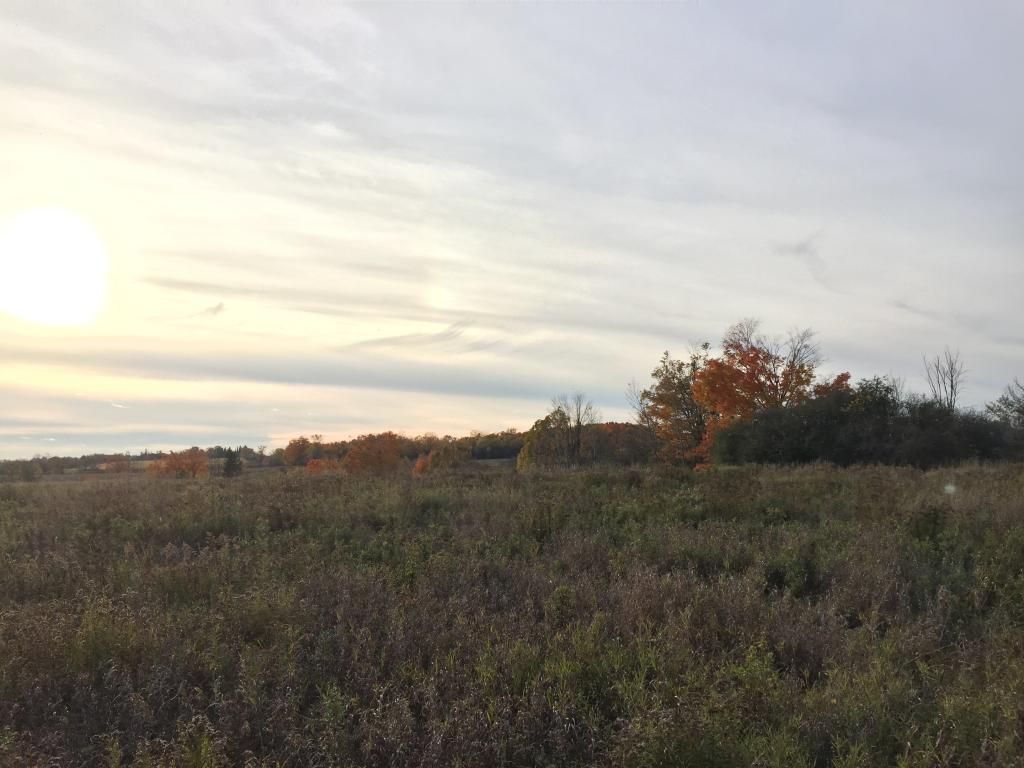 Lastly, my barn got a new kitten! She is the cutest thing ever.