It's that time of every-four-years again! That's right, everyone's favorite equestrian themed World Championship is occurring
before our very eyes
in Normandy, France. I consider this event something like seven Christmases and at least two birthdays combined because, um, awesome.
Of course the competition has already been going on for about a week, with Dressage, Eventing, Reining, and Endurance already wrapped up. However, this has only served (for me, anyway) to serve as an amuse-bouche for the main, ever so tasty course that is World Championship Showjumping.
Currently the first team event is due to begin in exactly one hour and twenty minutes. Unfortunately I am not actually in Normandy myself, despite some vague efforts to get there (though reports from the Games make me glad I'm reclining in my Egyptian cotton sheets right now and not sitting under a leaking squat toilet at d'Ornano Stadium) and thus it is near 2 AM local time pour moi. Alas, I am FAR, FAR too excited to sleep. So the blogiverse gets to deal with me instead. Bonjour, insomniac amis!
Because I have an hour and sixteen minutes to kill now, you are going to be subjected to my analysis and bios of Team North of the Border.
So without further ado...
TEAM CANADA
Despite my birthplace being in the US, I more or less live in Canada these days, and have what may be considered close ties with the Canadian showjumping team. Aside from the fact that one of the Team is my current trainer, the others literally compete in my backyard, and I've been incredibly lucky and fortunate to have the opportunity to observe them both actively compete and whilst meandering around on varying horses in warm-up and hacking. The ones I'm not seeing every other week are people and riders I look up to, and whose names are whispered reverently around these parts. I have IMMENSE respect for every single rider on this team and I am doing some serious finger crossing that Canada has a fantastic showing at WEG, all the horses come through sound and happy, and that at least one of our riders makes the Final Four. Ideally this would be my trainer (I WOULD DIE. And so, I'm sure, would he...) but you know what I will not even be that picky at this point other than wishing it to be so.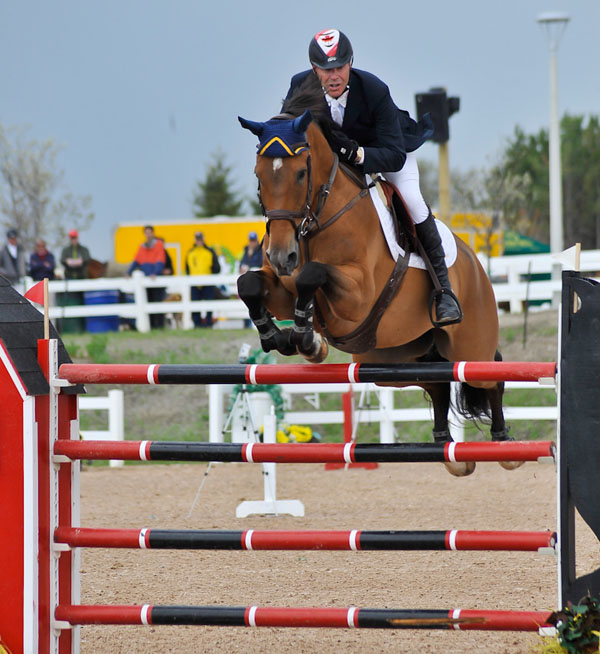 Ian Millar and Dixson
Does Ian Millar even require an introduction? The guy has been to 10 Olympic Games, been a silver medallist, won fifty zillion dollars in varying Grand Prix events, and has two (grown) children who are also Grand Prix level showjumpers. He's also about seven feet tall and has some of the best schooled horses I think I've ever seen, along with being one seriously charismatic guy. "Captain Canada" has all the Championship experience in the world - literally more than any other rider - and is still laying it down ride after ride, with his most recent win being in the $100,000 Champions Grand Prix at Angelstone Tournaments on August 23.
Dixson has the interesting story of having been sired by the 2010 WEG World Champion rider's mount, Philippe LeJeune's fantastical stallion Vigo d'Arsouilles. He is out of a mare called Sanna, by Olisco (Jalisco B) and is owned by Susan and Ariel Grange, who have Lothlorien Farm, and are long-time supporters of show jumping. The owners also have the distinction of having another horse in the games, the very handsome chestnut stallion Lansdowne, ridden by Conor Swail of the Irish squad. Dixson is a powerful chap with some good results to his name, and paired with Ian's experience, should prove a formidable opponent.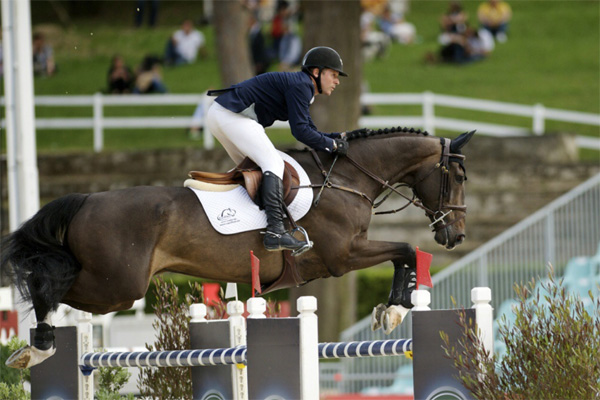 Eric Lamaze and Zigali PS
Eric, ah Eric. Such a story behind him as a person and a rider. Without diving into history and writing Eric's entire biography, suffice it to say he had a rough start but obviously emerged to become one of showjumping's shining stars. A team Olympic silver medal, individual Olympic gold, WEG bronze, and countless Grand Prix victories around the world are his to bask in. Around here, people whisper about him like he's Jesus. All the guys want to be him and all the girls want to be with him. You pretty much can't mention Eric without mentioning Hickstead, who (in my ever-humble opinion) was the finest showjumping horse to ever grace this earth, and I still tear up when I think of his untimely passing. The horse of several lifetimes indeed. Luckily, Eric has unreal supporters in the form of Artisan Farms, who seem to enjoy collecting Grand Prix horses the way some people collect snow globes. And thus Eric has one of the deeper strings of monstrously talented 1.60m ponies to pop around the tour. He had a few options to bring to the table for this World's Championship Games, but ultimately chose Zigali.
Zigali PS is a KWPN gelding, 2004 edition, sired by Kigali and out of a mare called P.Zermie by Palfrenier (Joost). He is a rather twiggy fellow who doesn't *look* that fast (or that coordinated, at times) but has emerged as one of Eric's more reliable mounts as of late. In the spring, they won an enormous Grand Prix in Rome, the Piazza di Siena CSIO5*, and seems to be coming into his own at the right time.
Yann Candele and Showgirl
Yann having been named to the WEG team leads him in an interesting full circle. Born in Normandy, not far from the site of the World Games, the story goes that he popped over to Canada to visit his buddy Eric Lamaze for two weeks and just never left, apparently sleeping in one of Eric's closets for some time before figuring out more reasonable accommodation. The rest is sort of history - after riding on various French teams and having a little toddle around Asia before ultimately settling in Canada, he became a Canadian citizen and was named to WEG and Olympic teams quickly thereafter. Though clearly no slouch prior to the acquisition of Showgirl in late 2013, the pairing has inarguably become one of Canada's most formidable opponents, with numerous double clear efforts in Nations Cups and top placings in Grand Prix events throughout Canada and Europe.
Showgirl is a 2000 Selle Francais mare by Gold de Becourt, out of Vedette Normande (by Elf III). She is all power and can jump the moon. While not the fastest horse to ever walk the earth, her power and scope make her an ideal Nations Cup horse, and with Yann's clever riding and her big step and allergy to wood, they have seen some very notable results. Showgirl is owned by the Watermark Group, which is a group composed of truly lovely people who all wanted to ensure Showgirl stayed in Canada... and with Yann.
Tiffany Foster and Verdi III
Okay, so I basically want to be Tiffany Foster when I grow up (should my growing up ever actually happen.) If you want to talk about adversity, Tiffany's seen it, having clawed her way back from a broken back (!) and emerging as one of Canada's show jumping stars. She saw yet more adversity at the 2012 London Olympics, when she was (unfairly, in my, once again, humble opinion) DQ'd after some BS that occurred that I don't really want to get into. Anyway, she's put that all behind her and now roams (and wins) the European and Florida circuits riding unbelievably fabulous horses and doing interior design in her spare time, while remaining effusive and adorable. Like I said, I want to be her when I grow up.
Her mount for the Games is Verdi III, by Hors La Loi II out of I-Cantessa (Cantus). He's probably my favorite Tiffany ride and seems to suit her well. He's beautiful, powerful and tucks up his little knees to his eyeballs when he jumps. With Tiffany's textbook equitation and beautiful, flowing style, the Canadians are going to be in a good place. Verdi III is owned by Artisan Farms, already covered in Eric's bio!
Chris Sorensen - Bobby
Though not widely known on the World scene, Chris has been slowly chipping away at it and seems to have found a Championship partner in his big black gelding, Bobby. Relatively new to the Team situation, Chris has started to shine at just the right moment, with a helpful score for Canada in the Nations Cup at Aachen and good results in the Spruce Meadows summer series. Chris also rides a few other fairly adorable horses, one called Wriompf that I want to put in my pocket, except he would probably kick me.
Bobby is a 2002 KWPN gelding by Concorde, out of Eamelusiena (Joost). He is really a very tall creature, and seems to have started sorting out where his legs go. He is a powerful jumper and he and Chris make a nice pair. Bobby is owned by Chris Sorensen and Britland Hughes.
Okay.... now it's 3:08 AM, I managed to actually waste an hour and twenty minutes doing this, and NOW THE SHOWJUMPING BEGINS!!!