While I may view the World Equestrian Games as seven Christmases and two birthdays rolled into one, one thing they are sorely lacking this time around is the massive - no, obscene, really - amounts of sleep that usually come along with the aforementioned holidays. That leaves me feeling very sad, because I value my sleep more than anyone I know. Like if I know I'm getting less than ten - yes, ten - hours I have a little weep on the inside because I know I will be a zombie sooner rather than later.
With WEG being held over in France, which is six hours ahead, my sleep schedule is in chaos. The best laid plans of mice and men went sadly awry last night when, despite my convictions that I would simply observe the first Canadian rider and then set my alarm for the US and Canadian team riders thereafter, I simply ended up staying up literally all night and getting four hours of sleep.
BUT IT WAS WORTH IT.
Tiffany Foster and Verdi III
For anyone who isn't as absurdly obsessed with World Championship show jumping as I am, and more specifically the Canadian team, the Canucks threw down four clear rounds yesterday. Led by trailblazer Yann Candele, he was followed by Tiffany Foster, then Ian Millar who hung in for individual 8th place, with Eric Lamaze bringing up anchor with yet another clear and 17th overall. All the Canadian squad placed inside the top 50, and in a group of riders like this, that is INSANE. Canada currently sits sixth overall as a team (out of 35 teams) but it's notable that they are but a single rail away from the lead. Which of course means that the top teams are currently bunched quite tightly.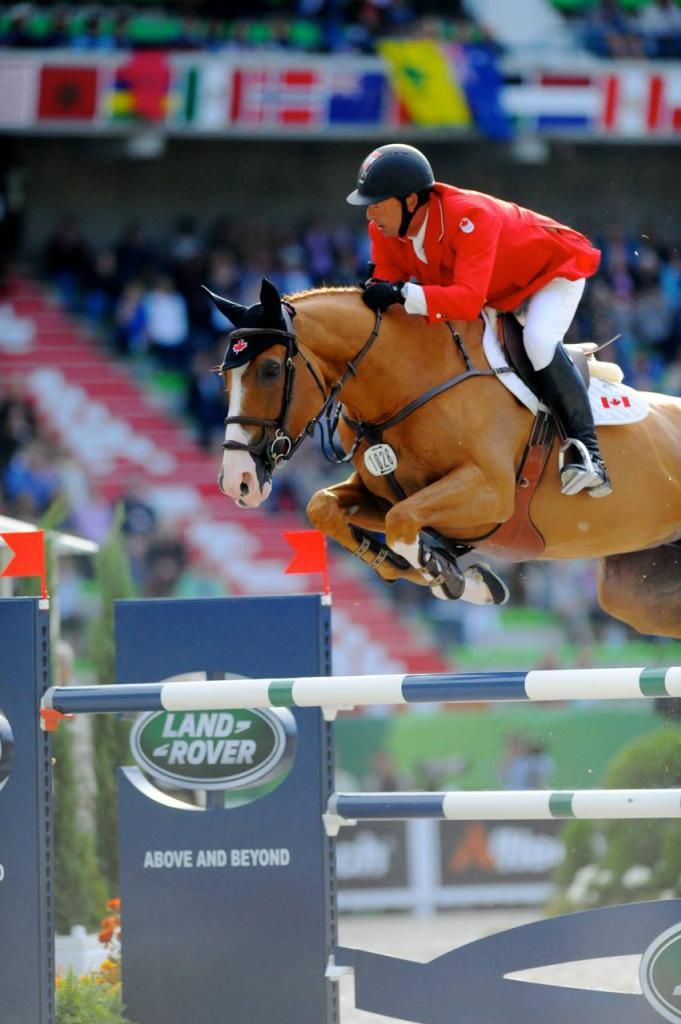 Yann Candele and Showgirl
My home and native land also had a fantastic showing, and are currently sitting in third overall as a team. As a side note I would also like to be some sort of amalgamation of Kent Farrington, McLain Ward, and Beezie Madden when I grow up. Maybe we can throw them in a blender with Tiffany Foster, Eric Lamaze, Yann Candele, and Marcus Ehning with a dash of Philippaerts for good measure and grow the perfect equestrian in a test tube somewhere. Anyway, the US squad is off to a great start, and it's fun to have two incredible teams to cheer for. Even if my heart lies with the cold-weather dwellers.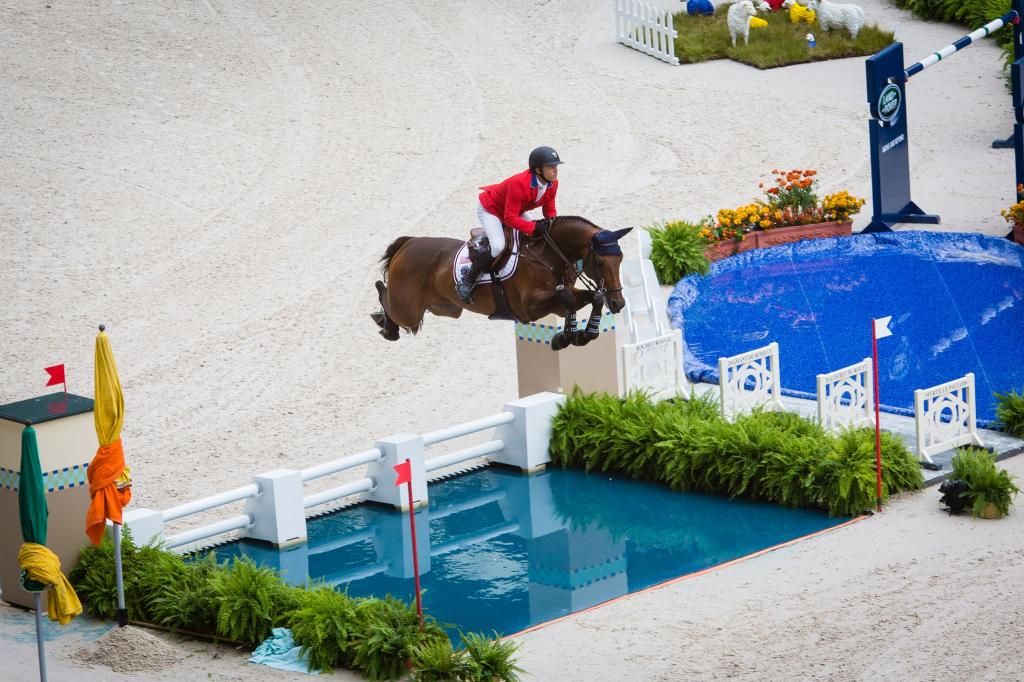 Kent Farrington and Voyeur
I did actually do something that could be described as mildly productive today, and went out and tooted around on the ponies. After being away for three excruciating pony-free days at a wedding in the States, I was very cheerful (despite lack of sleep) to see the darling Mr. Riley, who greeted me something like a black lab greets his owner after said owner has been away for several hours. My god, that horse has a way of making you feel like the moon and stars revolve around your very existence.
Since I wanted to be nice, and also wasn't really sure if the staff had gotten around to hacking him, I decided to let Riley do one of his favorite activities, and turned him loose in the indoor ring to have a gallop, fart and buck. He enthusiastically enjoyed this, but was done pretty quickly (for him) after about seven minutes of playing. From there I did my usual "hmm, tacking up is really hard" and hopped on him bareback with halter and lead rope and we went for a little hike outside. It's been raining like crazy, and sprinkled on us slightly while we meandered around out along some of the gentle hacking paths near the barn. Riley only spooked once, at some nasty squirrels (who even freaked ME out - they were crazy today) and I was pleased to discover that I can sit a spook bareback.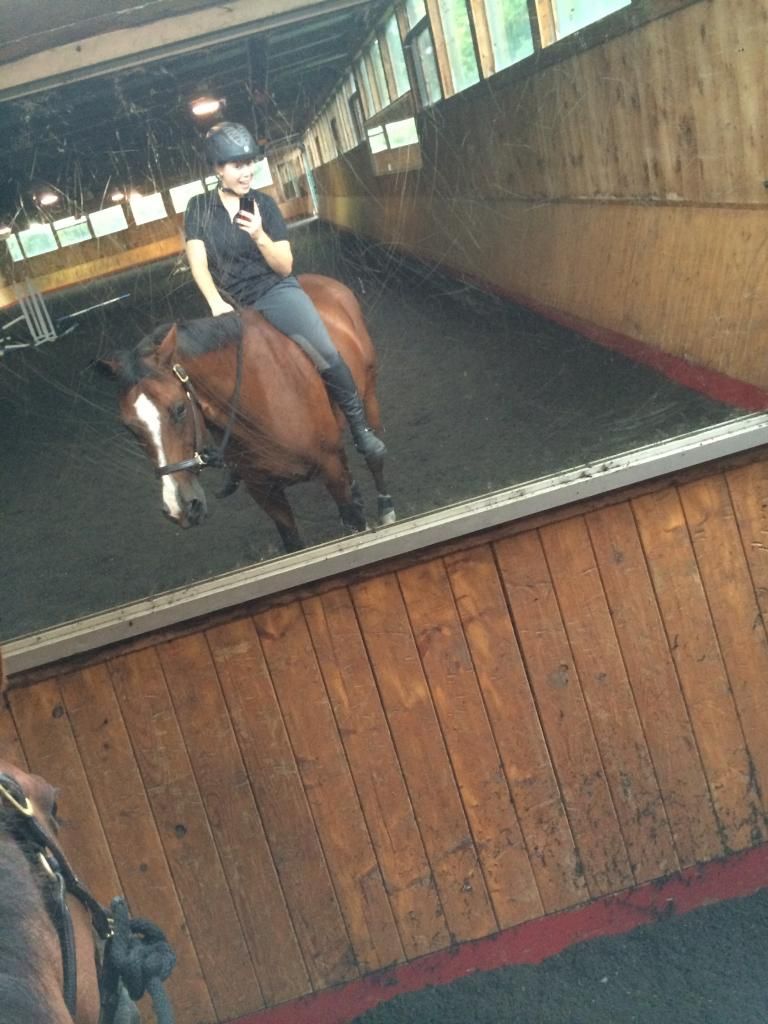 Just derping along, as usual.
After our gentle stroll I headed back inside, since the outdoor ring was a huge puddle, and we did a little bit of light work. I practiced my magical bareback sitting trot that I can't seem to replicate in a saddle for the life of me, we did our usual half passes, then cantered around over some poles that were out. There was also a wee cavaletti up, maybe ten inches, and against my better judgement I cantered over that as well. This is the closest I've ever really gotten to bareback "jumping" (if you can call 10 inches jumping) and well, it was a lot easier than I thought it would be. I also saw my distance every time so that helped, but still.
After this we hacked back outside to cool down, then I gave Riley a nice warm bath and snuggled him into bed after stuffing about half a tupperware of Stud Muffins down his throat, which of course he did not mind in the slightest.
Post-Riley, I schooled the really cute young jumper gelding that I mentioned a week or two ago, whom I seem to have fully inherited. As in, here's a horse, you devise a program, figure out his bitting preferences, get him fit and going, and we'll see you a couple times a week for jump schools, but have fun otherwise! I am, perhaps needless to say, delighted, and spent the first week getting used to his somewhat unique way of going, and sprucing him up a little (mane pulling and a lot of deep currying, that sort of thing.) He is a very sweet young guy and is constantly sticking his nose over to see what I'm doing. I'll be picking out his feet in his stall, for example, and he'll wind his very long neck around and gently rest his nose on my arm inquiringly. He prefers to take a look at everything I bring near him - brushes, wraps, saddle pads, etc - and I usually indulge him, which I think he really likes. He has some rude habits, like pawing on the crossties, that we're working on and seem to be improving. Mostly he is adorable and sweet and kind, and basks in his newfound attention. As far as riding, he is a bit out of shape currently, but he is a horse that tries his very best and then tries ten times harder when you tell him how very good he is. He is a joy to ride and work with because of all of these lovely qualities and has already started to look for me when I arrive, and does a subtler version of Riley's "OH MY GOD MY MOM IS HERE I WANT TO TELL EVERYONE REALLY LOUDLY" which I find incredibly endearing.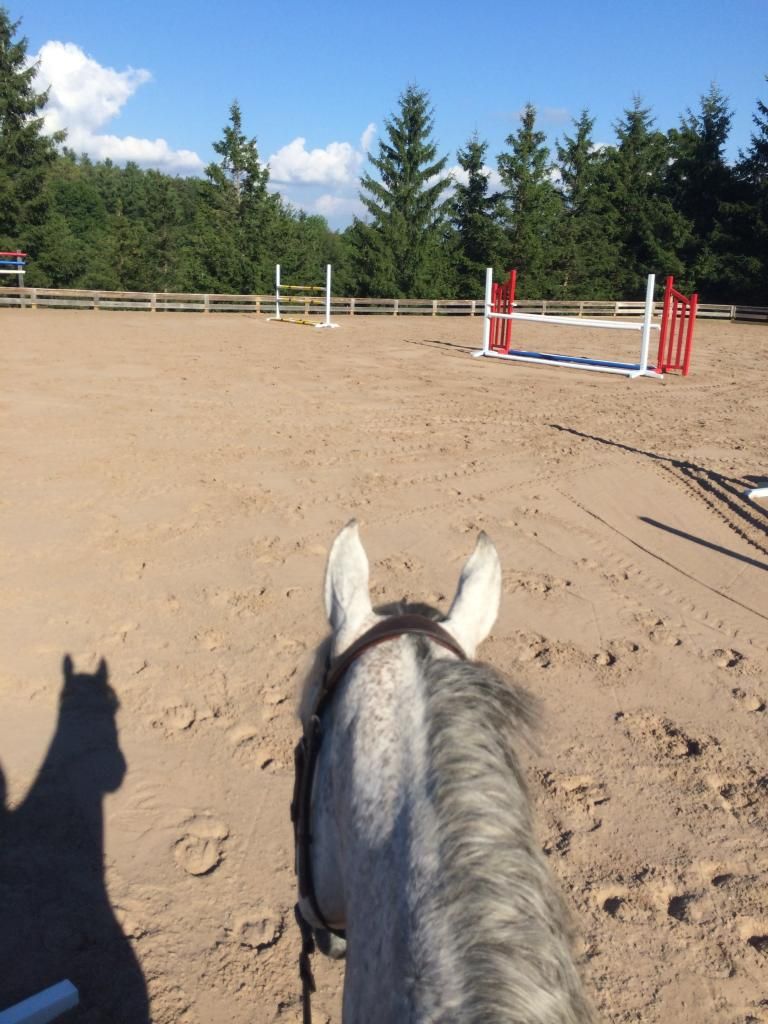 Life through a set of grey ears.
Update as of 3:19 AM EST: Yann Candele is CLEAR for Canada in the first round of the Team competition at WEG! Squeeee!