First things first: a heartfelt and excited welcome to those of you who are new here! The magical and lovely Lauren from
She Moved To Texas
gave me my first ever shout-out on her well-trafficked blog, which was totally unexpected but awesome! So for those of you just popping in for the first time, I promise I'll try to make it interesting. ;)
How we feel about getting a shout-out from Lauren.
We last left off with a visit to my brain - something I wasn't really sure about posting about here, but sometimes you just get so uncomfortable with what's going on that something has to be done. That blog post, along with having the mentioned discussion with my friend, has become an interesting catalyst. I'm starting to firmly believe in casting your aspirations into the universe - as long as they are sincere - and doing something about the things you want out of life. I've spent a lot of time hoping and wishing someone would notice my hard work and reward it by asking if I'd hop on and hack one, but that strategy clearly wasn't working out. For me, the start of doing something about it involved something as innocuous as laying it out for my trainer. I think I probably typed out and edited what I wanted to say for about three hours (over planning, much?) and finally just... asked.
Little did I know where this would lead.
To my eternal shock, I got a phone call the next day more or less handing over the reins on one of the ammy-owned horses at my barn, whose owner is not around right now for a number of reasons. Not only do I get to be in charge of this horse's exercise regime, I get to lesson and jump on him as well! He is a lovely young horse who's had some time off recently, and is fun and cute. Luckiest girl in town, right here.
This has also led to random opportunities that go something like, "hey, you're here, will you hop on so-and-so if you have time?" Of course the answer is always YES. On Sunday, I got to ride an ex-Grand Prix horse!! Coolest thing ever.
So now I really DO live in the barn - grooming, tacking, riding, and bathing a larger number of horses daily is time consuming, but I love it, and I wouldn't want it any other way, and I'm so incredibly grateful for the opportunities I'm getting.
Ain't that the truth.
For some additional inspiration, Monsieur Trainer competed at the LGCT London event last week, which is the coolest location for a horse show ever.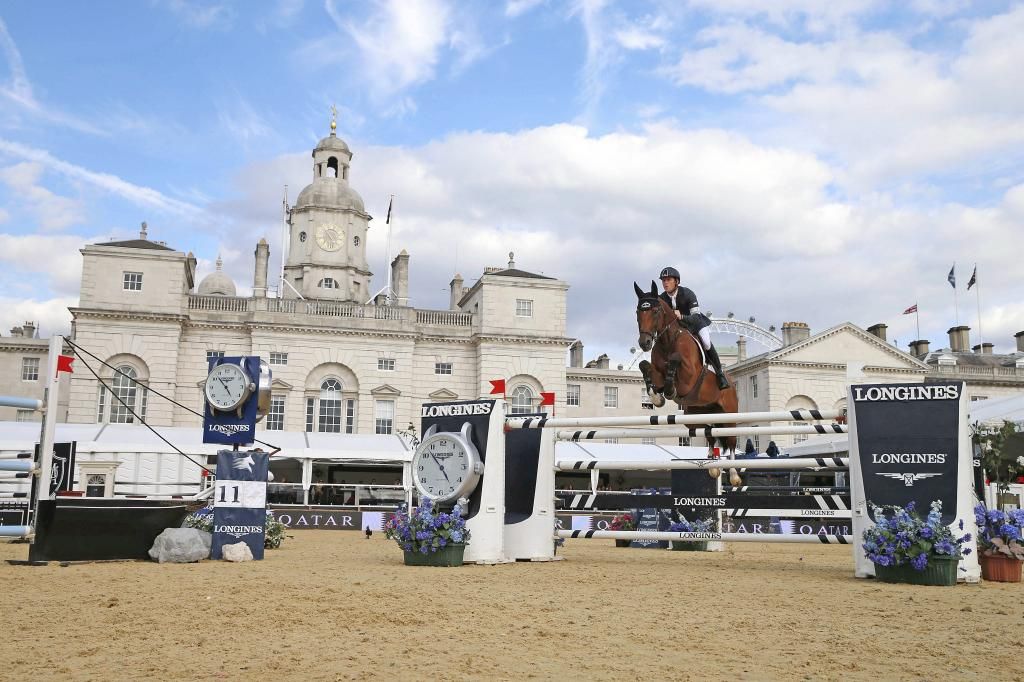 This is not my trainer, but it shows the amazing location!
He had some fantastic results and things are looking good for the upcoming World Equestrian Games. He, along with a couple of teammates, are competing this week as well, then moving into training camp before The Big Show. So excited for him and the Team!