The title of this blog is "Confessions of a Wannabe Jumper" and this encompasses a grand dream I have: to jump in Grand Prix showjumping classes someday.
Ideally, this involves the LGCT circuit and maybe a team or two, but we're getting ahead of ourselves.
I've been riding since the age of eight, though sporadically throughout my younger years. I began riding, doing lessons once a week, at a predominantly Morgan Horse barn that enjoyed doing a variety of disciplines. Western Pleasure, Saddle Seat, barrel racing, gymkhana games, breed show Hunter Pleasure, Equitation, trail riding - you name it, and we tried it at some point. My barn also saw a number of other interesting breeds come through, such as Friesians, Icelandic horses, Arabians, Saddlebreds, and the odd Thoroughbred. They were, however, predominantly a Morgan barn, as mentioned, and showed on the breed circuit in my area, with the best of the best going to Oklahoma City in autumn for the Morgan Grand National.
I always liked showing, and was fortunate enough to fall into some situations that allowed me to do so. I didn't grow up wealthy, though we certainly always had enough - there just wasn't tons of room in the budget for extraneous, expensive activities like showing horses. Nevertheless, I was lucky to get into a situation where I was able to work off some board and lessons, and ride a lot of extra horses, and eventually go horse showing. I'll never forget my first "A" rated Morgan show, where I was fifth and sixth in 13 & Under Hunter Pleasure and Hunt Seat Equitation, out of 19 riders and horses, with a gorgeous and lovely mare named Moira.
My first horse, Haley.
She had her problems, but we also had some great success.
Not too long after this, I lucked into my first horse, a small, opinionated, redheaded Morgan mare named Haley. We showed a little bit and had some success, but she had some pretty serious issues. As a kid, this totally freaked me out and we decided to sell her. This took a long time, but I was very lucky that a kind person at my barn selected me to show her young half-Arabian horse for her in the meantime. I had a great time, and as a totally horse crazy kid I couldn't have been happier. I showed the horse in Hunter Pleasure, Equitation, and even a short-lived appearance in Country English Pleasure. I really got into the Arab circuit for some time, and served as the Vice President of the state Half Arabian Horse Association Youth Club, even traveling to the Arabian Youth Nationals and going on TV! It was an amazing opportunity for which I am very grateful. My involvement also led to a few catch rides on other peoples' horses, as well as showing in the odd Arabian Breeding class, which was extremely exciting for me, and we saw some really good ribbons. I was on cloud nine, of course.
Mr. K himself! Arabian Hunter Pleasure JTR
Haley finally sold, and I (sort of unwillingly) made a trade with her new owner for a two-year-old Morgan mare whom I named Ria. Unwittingly, I had just made one of the most important decisions in my equine journey. For a number of reasons, we decided to keep Ria at home, since we had a small farm and had spent some time building stalls and paddocks. This was quite a learning experience, and I credit a lot of my current horsemanship skills to the simple necessity of having to learn how to house and properly feed a young horse! Thankfully, I had a lot of great and experienced help, and we all survived to tell the tale.
Ria was the first horse I broke and trained all by myself, and we went on to have some incredible success together. She also had the perfect brain - calm but a little sassy, and very willing to learn. I didn't have an indoor (or outdoor!) arena, so we did our rides in fields, dirt roads, and wide ditches, which led to her being very broke indeed! As time went on and we began to show, she started out by winning a lot of Junior Horse classes in both Hunter Pleasure and Western Pleasure, and once she turned five won just about every Open class I entered her in. We were Champion at five out of six horse shows we attended that year, and Reserve Champion in the sixth. I went on to take her to a nearby barn, where I worked as a groom and rider for a few months, which was invaluable experience, and my first time really properly working in the industry.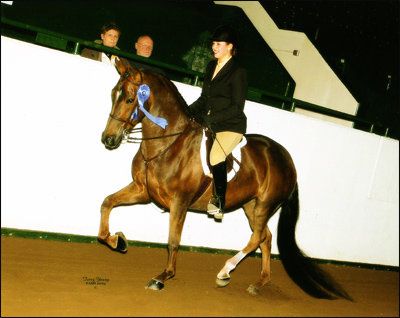 Ria!
The horse who shaped me into the equestrian I am today.
The next year, after carefully saving up all year, we attended the Morgan Grand National for the very first time, one of my Grand Life Dreams. We qualified for the Hunter Pleasure World Championship - which I'd wanted to win for years, and is the top prize for Morgan Hunter Pleasure horses - in a class early in the week, and while we didn't place in the Big Class it was an incredible experience. I also made some great connections, after shyly approaching a trainer whom I'd admired from a distance for a long time and asking her for a riding lesson. She graciously acquiesced, and an alliance was formed, which turned out to affect my life in a big way. About six months later, I went to work for her farm, a very well known Morgan barn, as a working student. I learned huge amounts of information in a short time and, although I was exhausted, knew the experience was totally worth it. I ended up leaving to attend college, but during that time, sold Ria to a wonderful woman and purchased a young Morgan gelding called Chad, who was hot and fun and fancy. Chad ended up being almost everything I ever dreamed of, and was Reserve National Champion Hunter Pleasure Stallion & Gelding the following year. Unfortunately, he was also really hard to ride, and although my trainer could make him look like an absolute dream it wasn't so easy for me or anyone else! We had some great success in the Amateur Hunter Pleasure ranks, but I ended up selling him down the road with the hope of finding something more fun to ride.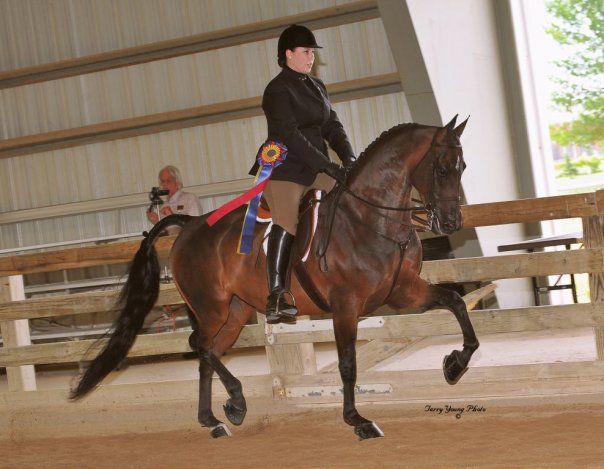 Chad, fierce and fancy
A lot of things happened in between there - I had some health issues, and I met my amazing boyfriend and moved a very long way in order to live with him. In his location, there's really no such thing as breed shows, Saddlebreds, Morgans, or anything of the ilk, so it was time for a discipline change. And that finally brings us to the recent past!
Starting in early 2010, I began part-boarding a been there, done that horse called Slappy from a local but well known farm recommended for its excellent hunter/jumper instruction. I hadn't ever really jumped before - sure, the odd obstacle here and there in those ditches with Ria - but I had no formal training whatsoever and basically started from square zero. In my first lesson, they had to teach me what two point position looked like! However, I found my legs quickly enough and started competing in the 2'6" Adult Amateur hunters that summer. I did a few shows, maybe three or four, and found that I had a new and unwelcome friend in riding: anxiety! This was new and startling, since I'd never really felt significant fear when riding before.
Itty bitty Hunter Land with Slappy.
Also the beginning of my very own Crazy Eyes.
I outgrew Slappy pretty quickly - he was very useful and taught me huge amounts, but was more or less maxed out around 2'9". My trainers at the time suggested a horse that had just come up for lease in-barn, named Riley. He was a five year old KWPN (Royal Dutch Warmblood) gelding and his owner had just found out she was pregnant. Was I interested?
Riley and I got to know each other over the winter, and it was a slow experience. We jumped a lot of very small Xs for a very long time. We began the 2011 show season in the 2'9" adult amateur hunters, had some good success, and moved fairly quickly into the teeny tiny jumper ranks since I couldn't get out of the hunters fast enough. We showed a lot of 80cm schooling classes and did some 90cm schoolings and 3ft hunter equitations, and the odd 90cm Jr/Am class when the horse show offered them. Once we started to get things together, we started doing the 1.0m classes in July of 2011. We were almost immediately successful and had some excellent placings, but I remember the learning curve being very steep indeed! At the very end of the year, we tried out the 1.10m, which was quite ill-fated and, looking back, I realize I wasn't really ready for, since I was still freezing up and forcing my horse to make the decisions. For a green horse, he handled my foibles awfully well, and almost always made the right choice.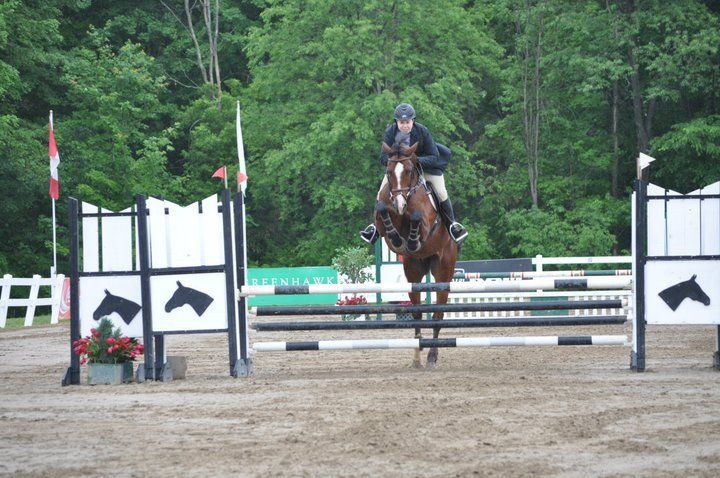 Jumpers are fun!
I was all set for the 2012 show season after a tough winter when Riley came out of the pasture lame one day in late April. The swelling and lameness never went away, and about seven days later, he was diagnosed with a check ligament injury. He was immediately placed on stall rest with limited hand walking, and we canceled our summer show plans and went into rehab mode.
Rehab sucks.
Summer 2012 was long - no jumping, no real riding, and a lot of walking around an indoor arena on a tranquilized horse who still jumped out of his skin every time the wind blew. He finally started trotting for short periods in August, and this calmed him down greatly. By the end of September, we had started jumping very small obstacles again.
By this time, I had leased Riley for two years, and thrown out a show season due to injury. Not a big deal - horses happen! - but it was a blow, and we weren't sure if he would hold up in the long run. Since my lease came to an end not long thereafter, we decided to start looking for a new horse. To make a long search story short, I found one in the shape of a young Dutch Warmblood gelding whom we ended up naming Tigger. He was seven, competed to the 1.15m with a lot of scope left, was fancy (my goal being some hunter derbies and moving up in the jumpers) and a total blast to ride. I couldn't whip out my checkbook fast enough.
The mighty Tigger, the first day I rode him
Unfortunately for me, he'd also been ridden by a pro all his life, and wasn't too impressed by Amateur Me. The Pro Effect wore off about two months into our relationship and things started to go south, fast. The dire end came when I ended up crashing through an oxer by myself while he observed me stoically from the other side, sometime in May of 2013, after me having not jumped (or really ridden) for several months while he was in boot camp. He was redirected under a local pro who is known for his ability to ride just about anything, and I went to the sidelines once again. Yet another long summer ensued while we tried - and failed - to sell him. I finally reached my wit's end in late July and, with the loving support of my amazing boyfriend, leased an ex-event horse who was braver than brave and indifferent to the imperfect ride. This lovely horse, Denver, held my hand through some incredibly unconfident moments, and through a summer where I was terrified to jump 60cm (1'9"!) in a horse show. We finished out the year doing a terribly unconfident 90cm and with no desire to move up whatsoever. But at least it was something, and at least I was riding and jumping again.
The worth-his-weight-in-gold-and-then-some Denver!
Please allow me to take a nap on your neck.
In later 2013, my barn went through a lot of changes, and one of them involved a new head trainer, whom I post about plenty on this blog. He is very French and very deadpan, which leads to plenty of extremely entertaining moments. He is also very experienced and quite literally one of the top riders in the country. While I didn't realize it at the time, I lucked into something big, and it's an experience for which I will be eternally grateful.
Since then, my horse life has evolved from "please allow me to consider quitting once my horse sells, because this really sucks" to having the ambition and extreme desire to Be All I Can Be. The right coaching is instrumental, and I feel confident that I have that in our head trainer, who is supportive and positive and doesn't pull any punches. While I'm still ironing out the finer details, I look forward to the day I step into the Grand Prix ring for the first time.
Our new head trainer pulled me off Denver about two months into our trainer-student relationship, since I improved by unbelievable leaps and bounds and he scoped out fast. I rode a lovely chestnut gelding named Ruckus for several months, then, in an interesting twist of fate, wound up riding Riley a little bit since he was around. He had been out on lease with an adult amateur who did the low hunters, and had developed some medical issues which required quite a few months of work. Eventually, it was decided I would begin leasing Riley once more, and I started a new lease with him in April of 2014.
The rest, as they say, is on the blog.